La Nuova Italia. Strumenti
Leonardo Mattioli, 1973
"Strumenti/Ristampe anastatiche" (instruments, anastatic reprints) inaugurated in 1973 with "Fenomenologia dello spirito" (Phenomenology of the spirit), in a re-edition of the 1960 translation by Enrico De' Negri also published by La Nuova Italia. The series collects many reprints of works from the 1960s catalog, but also anastatic re-editions of different publishing houses (as in the case of "Charlemagne" by Joseph Calmette, published by the then disappeared Edizioni Da Silva in 1948) in an economical paperback format. It should be noted how the constraint in a pocket-sized and uniform format of editions of disparate sizes, often much larger, sometimes results in almost illegible paragraphs.
"La Nuova Italia relaunches on the market the most significant works of its catalog of high culture in anastatic reprints at a good price, as work tools for teachers, for students, for men of culture. Alongside, La Nuova Italia will present, in 1974, a more articulated proposal of instruments for specifically university use."
The covers are characterized by a typographic structure that is not always easy to implement: the surname of the author, enlarged so much to become a sign in the center of the page, cut on two lines in case of long words. From 1976/1977 onwards, the green previously reserved only for the surname was also used to cover the entire spine of the book. To underline the exclusively typographic choice, the symbol of the publishing house appears only on the first internal pages.
Except for a foray by Garamond for smaller texts, the covers are set in "Berling", a relatively unusual typeface for Italian publishing, designed in the 1950s by the Swede Karl-Erik Forsberg – title in regular italics, surname of the author in bold roman.
G.W.F. Hegel, "Fenomenologia dello spirito. Vol.2"
Strumenti 2, October 1973 (1a edizione)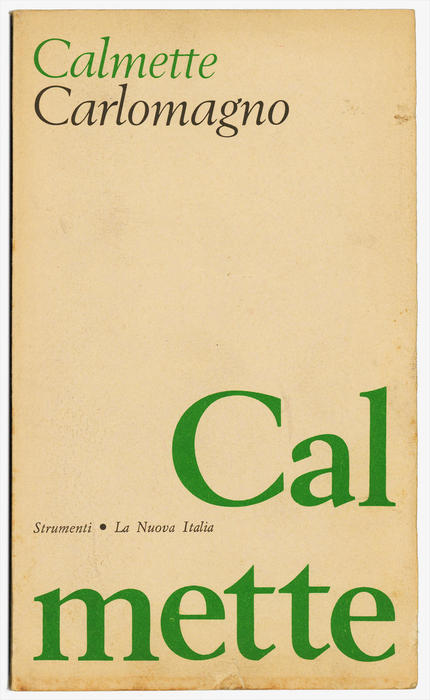 Joseph Calmette, "Carlomagno"
Strumenti 10, January 1974 (1a edizione)
Giacomo Devoto, "Profilo di storia linguistica italiana"
Strumenti 32, January 1976 (1a edizione)
Eduard Munch, "Calcografie litografie silografie"
Strumenti 39, May 1977 (1a edizione)
Mario Fubini, "Ugo Foscolo. Saggi, studi, note"
Strumenti 43, February 1978 (1a edizione)
La Nuova Italia
Founded in 1926 by the poet Elda Bossi and her husband Giuseppe Maraini, it was directed first by Ernesto Codignola (who commissioned the famous Florentine office to architect Edoardo Detti with advice from Carlo Scarpa) and then by his son Tristano. Among the quarterly published, reviews of criticism and history of philosophy, geography and socialism; many series and publications dedicated to education policy and educators. From the 1980s the publishing house went into crisis and was sold to the RCS group (Rizzoli Corriere della Sera) in 1998, later merging into Mondadori.
Leonardo Mattioli
Born in 1928 in Florence and died in 1999, he is remembered as an artist, illustrator for children and graphic designer for publishing. Among his most famous works are the panels illustrated for Pinocchio in 1954 published by Vallecchi, with geometric shapes and colors very distant from the "childish" canons. From the 1960s he also began working as a graphic designer, from 1967 he was art director at Sansoni, taking care of the covers of the "Great Foreign Classics". He was also a teacher at the Porta Romana Art Institute in Florence for over 20 years.